I have always looked at travel as something deeper than an activity – to me it acts an anchor of self-discovery and an outlet to channelise my inner thoughts and feelings. Through the years, my collection of drones and GoPro have been my constant travel companion. Life is all about magical experiences and they add so much life to my beautiful travel moments.
Drones are to me an extension of my colourful mind and curiosity, and they have been a prized asset for all my travels, as they fuel my constant hunger to explore new things. It amazes me sometimes how something as modern as technology can help you discover the old soul within you. I am so proud to own my favourite DJI Mavic2 Pro and GoPro HERO9 and can call them my travel buddies.
A hilarious moment from my many trips that comes to mind is this one time, while exploring the breathtaking beauty of Switzerland, I flew my drone through unchartered territories. The drone almost landed near a riverbed, but luckily, we could find it and no harm was done! But I believe drones have a mind of their own, which is so fascinating to me, along with the idea of owning something so powerful and intelligent.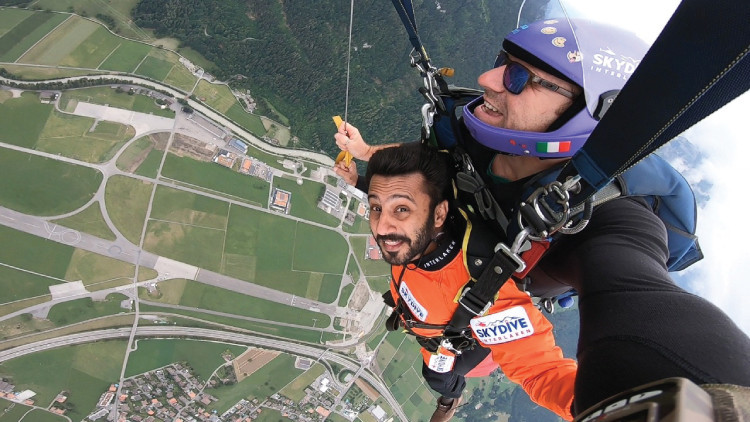 The best part of travelling around the world is the freedom of being able to just wake up and explore the secrets of the world. Bali will always be my favourite destination, owing to its irresistible charm and positive vibes. There is just something about the place that is truly unforgettable, and it is a true paradise for the cultural buffs, as well as for lovers of nature. I am also a huge believer in spirituality, and there is something about the place that allows me to re-connect and reflect on my deepest thoughts. Europe has its own charm too. The fascinating history, architecture, nature, culture, food, and hospitality have always left me wanting more.
Oliver Cromwell had once noted, "A man never goes so far as when he doesn't know where he is going." Travel has given me my greatest stories, and my most cherished memories and has greatly broadened my horizons. It is just like a reset button and allows me to experience the greatest things life has
to offer.