Q]

It is the busiest time of the year for most brands; what does Amazon have in store for the festive season this year?
We actually wanted to bring an Amazon house to life. We tried doing something similar last year, but it was limited in terms of the number of people who could experience it, because it was a physical home in Delhi. This time around, the team said let's push ourselves and see if we can take this experience to beyond just a single physical place. Hence the whole idea of the 'yatra', which is actually a house on wheels. Everything in the house was bought on Amazon. The house on wheels will undertake a journey of about 6,000 plus kilometers, and cover cities like Delhi, Lucknow, Ahmedabad, Kochi, Chennai, Hyderabad and finally Bangalore.
Q]

Last year, we saw the 'Great Indian Band'. What is the insight behind your ad campaign for the festive season this time?
This time the theme is that of the Indian mela. If you had memories of going to a fair or a mela, you will remember that there is spontaneity and joy in that experience. Delhi still continues to have those melas, Bangalore has palace grounds where the atmosphere is filled with games, food stalls and you can also shop for products. So, we have actually taken that as a metaphor for this year's campaign. The insight continues to be the same as last year which is that Indian families in this period are actually trying to resolve the conflict between budget on one side and their aspirations on the other. It is common to put off a few purchases for Diwali. You will often hear, 'We wanted to buy a big TV, let's buy it on Diwali.' So, this campaign's thought is that 'India ke khushiyon ke beech budget nahi aayega.' Last year's metaphor was that of a band, where music brings the joy to every Indian celebration. This year, we metaphorically comparing the 'Great Indian Festival' to a mela.
Q]

What is the marketing mix for the campaign?
We are deploying a full 360-degree campaign in nine Indian languages. We will have ads across Television, Print, Digital. Then there will be Out of Home, Radio, again a lot of social and a lot of on-ground activation in relevant places.
Q]

Has the economic slowdown affected Amazon's spends in any way this year?
We are well prepared for Diwali. If I were to compare last year with this year, the reason why we are so confident is because today we have 200 million products available for selection, which last year was almost 170 million. Last year, we had 3.5 lakh sellers selling on the platform. Today we have about half a million. We have 24 million cubic feet worth of warehousing space in the supply chain network to be able to get products to our customers even faster than what we did last Diwali. If I talk about high value products, Diwali is a period where a lot of people want to buy expensive goods. Many a time, we have got customer feedback that, "Hey, I don't want the box to be lying at home, I want it to be installed as soon as possible or I want to be home when the box is delivered, it's a high value product so I don't want it to be left behind somewhere." So, we have innovated and enabled something known as 'scheduled delivery'. In 100 cities in the country, you can actually pick a slot of your choice to have the high value product delivered to you. In the top six metros, in fact 10 cities now in the country, you can actually open the box, check the product inside, and then accept delivery. Earlier, if something went wrong, you had to send it back later. Now you will be able to open it and check it out right there. There are six cities in the country where we have enabled instant delivery plus installation. So, in a single doorbell, not only will you have your television delivered to you, but you will actually have an installation person come in and install it for you too. Some of these are the kind of things that category teams, product teams, various businesses within the Amazon fraternity have worked really hard on over the last 10-12 months to cater to customers this Diwali. So, we are confident of our preparations for the festive season.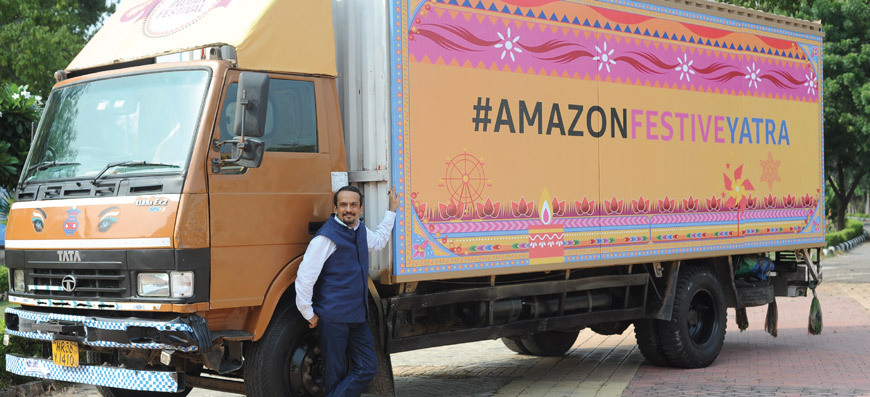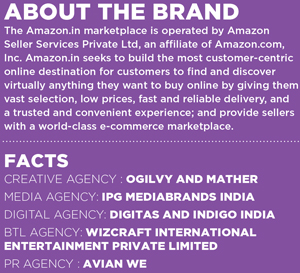 Q]

What are the big products you are launching through the Amazon Great Indian festive sale?
In smartphones, we have an exclusive selection and some Amazon specials that will be out on our marketplace. Samsung will have a range of products coming in within the smartphone space and so will Vivo and Xiaomi. Apple is also likely to have never-before offers on the Amazon marketplace this Diwali. If you look at large appliances, last year to this year, we would have more than doubled the selection. OnePlus is a brand that has been loved by customers and one we have partnered for so many years. So far, it has been a smartphone brand and for the first time, it is extending itself to television sets as well, which will be launched on Amazon. So a host of sought-after launches will happen on Amazon during the Great Indian festival sale.
Q]

Hyderabad has the world's largest Amazon campus today; is that a reflection of the market here and the importance of India in the global scheme of things for Amazon?
Work on that project started 10 years back. That's how long term Amazon thinks. And that's how long term-oriented Amazon is as a marketplace. The philosophy we internally keep reminding ourselves is, 'It's still Day One'. Less than 1% or 2% of the retail landscape in the country is online. And of that, we would have a significant share. We believe that we are the leaders as far as e-commerce is concerned. But, having said that, with the segment itself being so small today, it's not like we are happy being leaders. We need to continue to innovate.
Q]

You launched a Hindi app last year - how has that helped Amazon penetrate into the hinterlands?
Our Hindi app is a great example of that innovation. There are 1.3 billion people in India, and roughly 500 million of them are on the Internet; but only 150 million Indians can communicate in English. So, if you are happy with where you are today, you will probably cater to 150 million users, which is a very small number as compared to the total online population of this country. Hence the need for us to be present in languages that customers understand, and are comfortable in.
Q]

You already face competition from home-grown and more recently Walmart-acquired Flipkart and Mukesh Ambani is also jumping into the fray with an e-commerce platform… Is there enough for everybody or will losses increase?
To a large extent, our belief is that India as a country with 1.3 billion people is large enough for many of these business models to invest in. We don't worry too much about competition as much as we are obsessed about our consumers. We believe that we have a model which has been right for India. We have seen success on the basis of that business model, and we continue to innovate for our customers.