Q] Could you give us an idea behind the 'Dil Se Open – Aapke Liye' campaign?
When we thought about the concept of this advertisement, we decided to showcase to the world that we are 'Dil Se Open – Aapke Liye.' We tried to explain to our customers that being Dil Se open is reflected when they interact with us, and the benefits they get out of it. So, the ad shows how our employee has gone all the way, deep into the forests of Chhattisgarh to get an account opened. It is one of the ways in which we have creatively manifested that thought. Similarly, our own bank employee, going to the government office with the person who needs Krishi loan in order to help him get all the documents, because a banker knows the documents.
In each instance, we have tried to showcase that these are the benefits if you bank with Axis bank. You get customer centricity, and we will go above and beyond to deliver what is required for your need.
Q] What was the marketing mix of the campaign, and could you give us a number on the funds that were allocated for this campaign?
We have a multimedia campaign. The ad spends for this campaign, including production, would be around Rs 32 to 35 crore. A lot of our focus is on television because our country has a TV watching audience. Also, as part of our strategy, we are now trying to move away from the top 12 cities approach. So, in our ads there is a Bharat touch to it, which is why we have tried to showcase different locations and different terrains in the advertising.
We have a lot of our own real estate. We have about 5,500 branches, 14,000 plus ATMs. We have 95,000 screens in our offices. So, it's a multimedia campaign and we are using every touch point that's internally available to us, including things like our call centre. We are trying to leverage every touch point we have, and are spending money on traditional channels, like television, Digital and connected smart TV. If we look at the percentage wise breakup, we have spent approximately 75% on TV, 5% on outdoor, and 20% on digital. We are not doing any print.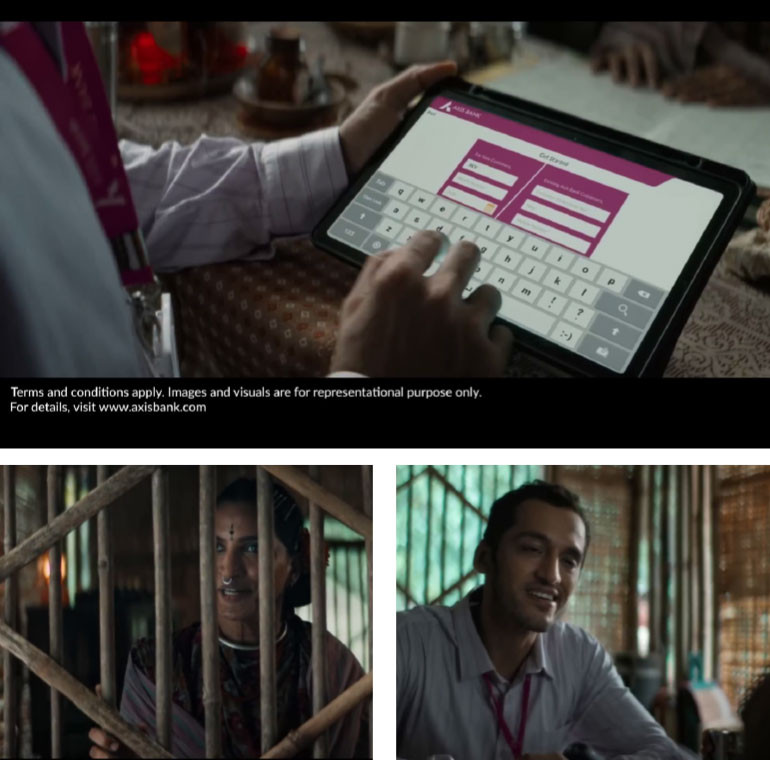 Q] In the ad film, we have seen that an Axis bank employee makes banking facilities easier for people living in far off destinations. Do you think India today continues to lack banking facilities in rural areas?
In my opinion, the government has done a great job in providing banking facilities through a lot of state-run banks. But I don't think there is a dearth in locations or branches, it's quite possible that except for difficult terrains where it's difficult to get to, there are enough banking facilities. A lot of banking facilities are also going Digital. In the ad film we have also tried to show that when our Axis Bank employee goes into that deep forest in Chhattisgarh, he's still using a tab. So, physical reach is important as we have 5,500 plus branches, but we are also focusing on digital reach.
Q] Do you think post COVID, the brand messaging and propositions of banks in India has changed?
I don't think so. If I speak for Axis, I don't think our messaging has changed these days, we are still saying that what we are good at is customer-centricity. But I think what has changed is the context in which our banking services are now being delivered. With the pandemic happening, a lot of things are on the digital side. We have seen people move away from cash, and use payment apps, we have our own gateways, so that is something that has changed. As organizations, we need to adapt and evolve for the customer. But positioning-wise, we haven't, we are sticking with what we think is our core strength.
Q] When banks get into controversies related to transactions or banking issues, does it become difficult to regain the trust of the consumers?
I have to say it does. I think one of the biggest drivers in our industry is trust, and we have 25 million plus customers and about 10 million or one crore of those customers on our mobile app. We would not be growing in our customer base and our app user base, if we didn't have the trust of the customers, but yes, it is an industry where if you lose trust, it takes a bit of time to regain that trust. Whenever we do campaigns, we interact with the customers on a one-on-one basis. Our endeavour is to delight the customer because we do know that the base of this is the trust that they place on us.
Q] What other innovative marketing strategies does Axis Bank utilize to reach the masses and to acquire new customers?
I think the focus internally is to do the basics well. So we ensure that our Relationship Managers meet our customers, and are reaching out to new customers. We ensure that we do it consistently, and keep the brand ethos in mind whenever one communicates with a customer. So while there are some new and innovative things that we are doing, we are also doing a lot of investments on Digital to enable our consumers to access the different services we have in a branch from the comfort of their devices seamlessly. This is something that we are heavily investing in as a bank, but marketing-wise, we are obviously trying, we try to do everything that we can to reach out to the customer and grow our customer base.
---
PROFILE
Anoop Manohar joined Axis Bank in September 2021 as Chief Marketing Officer. Under his role, he is spearheading corporate brand initiatives across Axis Bank and all its subsidiaries. He is driving digital and social media marketing strategies across new and existing products and working with all businesses to develop marketing plans that deliver brand promise and enhance customer engagement. Prior to joining Axis Bank, Anoop was the Marketing Director - West, ASEAN and South Pacific at Coca-Cola. He has an extensive 20 years of experience across companies such as Unilever and Frito Lay in addition to his stint at Coca-Cola.
About Axis Bank
Axis Bank is the third largest private sector bank in India. Axis Bank offers the entire spectrum of services to customer segments covering Large and Mid-Corporates, SME, Agriculture, and Retail Businesses. With its 4,759 domestic branches (including extension counters) and 10,161 ATMs across the country as on 30th June 2022, the network of Axis Bank spreads across 2,702 cities and towns, enabling the Bank to reach out to a large cross-section of customers with an array of products and services. The Axis Group includes Axis Mutual Fund; Axis Securities Ltd.; Axis Finance; Axis Trustee; Axis Capital; A. TReDS Ltd.; Freecharge; and Axis Bank Foundation.