2020 will go down as a watershed year for the media and advertising industry. Not only was there a tectonic shift in the consumption and adoption of digital platforms and services but there was also a huge bump up in the ad monies that was spent on Digital by brands. The digital medium has already overtaken Print to become the second biggest AdEx medium in India and is fast catching up with TV AdEx numbers. The COVID-19 pandemic has only accelerated the adoption of Digital as a key advertising vehicle.
As per the fifth edition of the annual report on digital advertising from the exchange4media Group and Dentsu titled 'Digital Advertising in India 2021', digital advertising had grown in India by 15.3% last year to reach Rs 15,782 crore. The industry was at Rs 13,683 crore at the end of 2019. The report further adds that the digital juggernaut will continue and will grow at an impressive 20% to reach a market size of Rs 18,938 crore by 2021 and with a CAGR of 22.47% to touch Rs 23,673 crore by 2022.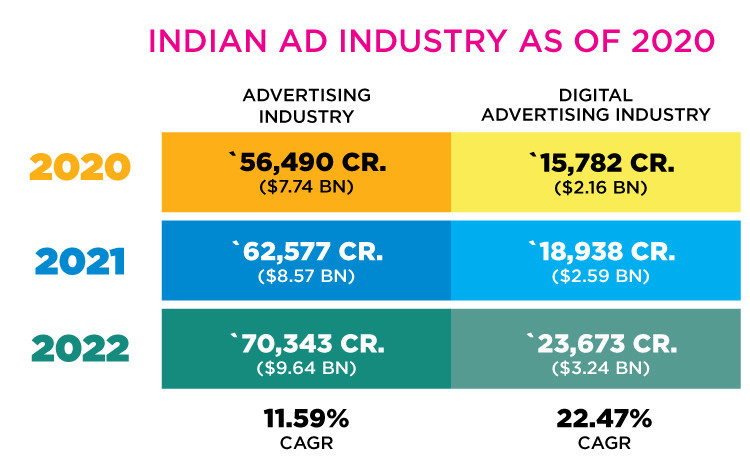 THE PANDEMIC PUSH FOR DIGITAL
The double-digital ad growth registered by Digital is due to the widespread digital transformation during the pandemic, and changing consumer habits and behaviour. This also means that traditional media saw a decline with a negative growth rate of 25.7% over 2019. Digital AdEx grew even as the overall AdEx witnessed a 17.5% drop at Rs 56,490 crore over 2019 due to the pandemic. As per the report, the advertising industry is expected to make a comeback and will grow by 10.8% to reach Rs 62,577 crore by the end of 2021. Furthermore, it is expected to grow with a CAGR of 11.59% to reach Rs 70,343 crore by 2022.
Traditional media will have a growth rate of 7.2% by the end of 2021. The growth of digital media can be attributed to factors like internet penetration, availability of affordable phones with internet connectivity, and change in consumer behaviour on the back of last year's COVID-19 outbreak. The internet user base has been increasing rapidly and has contributed to the growth of Digital.
TELEVISION – STILL LEADING IN MEDIA SPENDS
The report reveals that Television still contributes the largest share (41%, Rs 23,201 crore) to the Indian advertising market. This is followed by Digital (28%, Rs 15,782 crore) and Print (25%, Rs 13,970 crore). Television accounts for a majority share of advertising spends in India, and it has been a leader in terms of media spends thanks to strong audience loyalty, the report points out.