When Dabur Red Paste spoke to us about building a connect with fans during the Cricket World Cup, we knew we needed to make it both fun and brand relevant, to stand out from the clutter. Making the cricket connect with Dabur Red Paste's brand promise was the key. Once we had that – we had a ball (literally). The result? Five kadak films that.
KAPIL ARORA
President, Ogilvy North

Protection from dental problems for strong teeth and healthy gums is the core promise of Dabur Red Paste. Cricket is one of those opportunities that allows your brand to reach out and engage with a large audience. #Sabkochabajaayenge gave us the perfect plank to have this conversation in an engaging way, while subtly plugging in the Dabur Red Paste benefit.
HARKAWAL SINGH
Head Marketing, Oral Care, Dabur India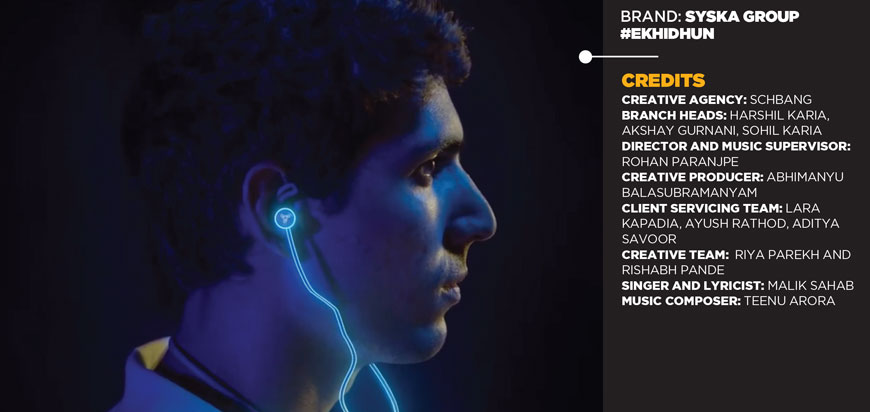 When we conceptualized this campaign, the objective was that we need to bring our community together via music. What better way to kick off this year-long campaign than with the Cricket World Cup! With #EkHiDhun, we are very excited to see how the nation reacts to our tribute to the Indian cricket team.
AKSHAY GURNANI
Co-Founder-CEO, Schbang

Music and cricket are one of the most celebrated, fun and entertaining ways of connecting with all Indians and bringing them together. Our World Cup Anthem #EkHiDhun captures the nostalgic moments of every Indian who is passionate about the sport and is excited that the men in blue bring the World Cup home once again.
AMIT SETHIYA
Chief Marketing Officer, Syska Group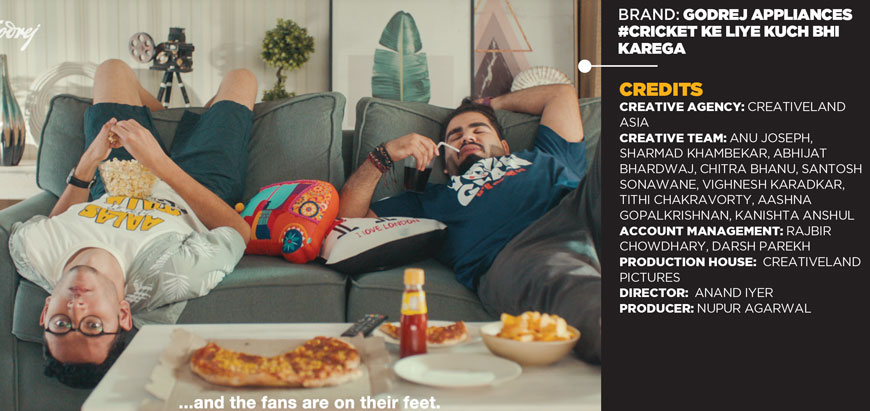 Our aim was to effortlessly slip into the screens of cricket crazy Indians, and deliver the brand message without disturbing their viewing. I would think that's perfect for a brand whose philosophy is 'Things made thoughtfully'.
ANU JOSEPH
Chief Creative Officer, CreativeLand Asia

The World Cup is a once in four year phenomenon which guarantees eye balls like very few events do. The growing online viewership allows us to reach a specific TG we want to connect with. We have ensured that the ads are not intrusive in the cricket watching experience but instead, build on it in a witty manner which we feel will resonate well with our audience and help to register the product message better as well.
SWATI RATHI
Marketing Head, Godrej Appliances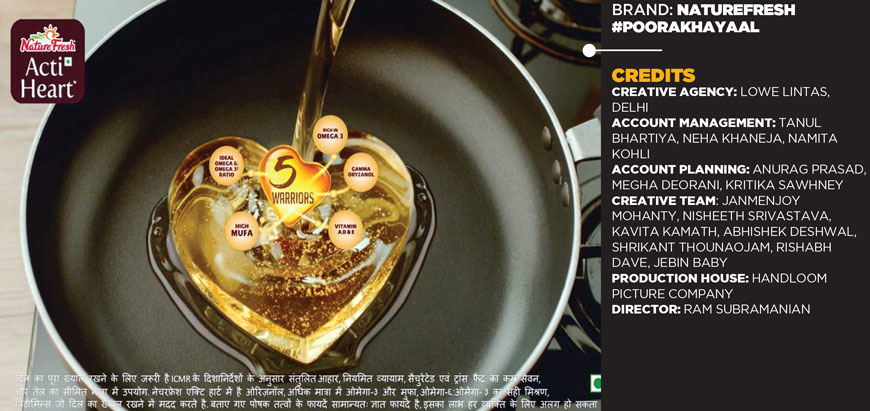 Heart health is a big concern today, even among the youth, due to the chaotic, always-on lives we lead. The current perception among consumers is that if cholesterol is in control, they and their family will be free from heart ailments. Through #PooraKhayaal, the intent is to bust this myth through impactful stories and encourage consumers to question their choice of cooking oil.
JANMENJOY MOHANTY
Regional Creative Officer, Lowe Lintas

Cardiovascular problems are increasingly becoming a significant area of concern among urban households today. NatureFresh Acti Heart's campaign #PooraKhayaal aims to shift the narrative from cholesterol reduction to complete heart care. Our goal to is enable consumers to question their current choice of cooking oils that only addresses cholesterol.
SUBIN SIVAN
Marketing Head, Cargill Oils Business, India