The challenge was to push the limits and change the trajectory for the brand with this campaign. Kudos to the ŠKODA team led by Zach Hollis and Tarun Jha who showed immense faith in the idea and were brave enough to buy it. We are very excited and proud as a team and reasonably confident the campaign will do exceedingly well for ŠKODA.
PARITOSH SRIVASTAVA
COO, Publicis Ambience

ŠKODA India believes in pushing the boundaries and setting a benchmark for others. The Shield Plus is again one such industry-first initiative with a unique offering, which will not only delight customers but also help them experience complete peace of mind with a ŠKODA.
TARUN JHA
Head of Marketing and Product, ŠKODA Auto India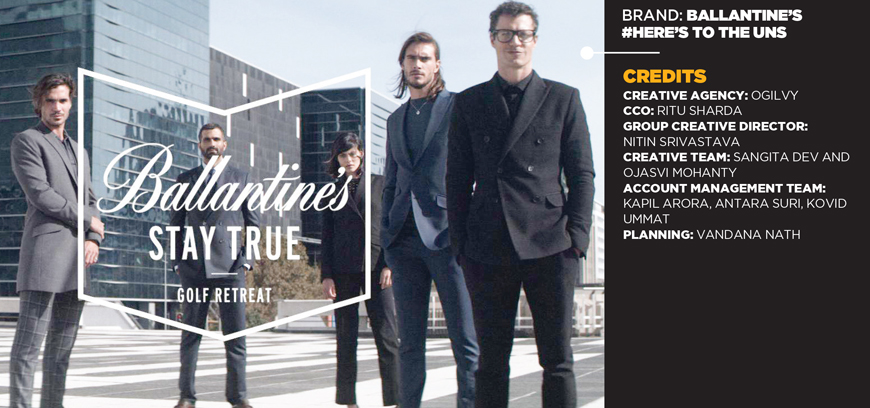 The new world order and success itself belongs to this new breed of disrupters of the typical. By applying a sharp business acumen to their passions, they are creating new business empires. A boldness of vision on the part of the client inspired the team to push the boundaries. Together, it led us to script unusual stories of success with a dramatic new visual language.
NITIN SRIVASTAVA
Group Creative Director, Ogilvy India

These are the times of the unconventional. Not content to step into anyone's shoes, they script success stories on selfbelief. Powerhouses of talent, they are challengers of the stereotype. They are dreamers who are doers. Undiluted in intent, they are upending the dos and don'ts of the expected. With great success. Ballantine's and this film is an ode to these heroes.
KARTIK MOHINDRA
Chief Marketing Officer, Pernod Ricard India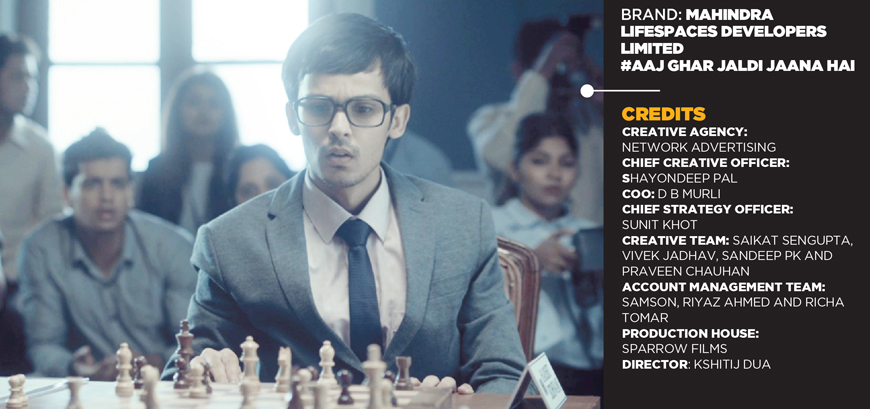 Cricket can never be enjoyed alone. As a fan, the fun multiplies when you watch the game with family and friends. This insight worked beautifully well with our brand thought, 'Joyful Homecomings'. The campaign therefore, revolves around excuses people come up with to escape their present surroundings and rush home to catch the excitement. We say, 'Aaj Ghar Jaldi Jaana Hai' in popular parlance. The idea hinges on this.
SHAYONDEEP PAL
Chief Creative Officer, Network Advertising

'Joyful Homecomings' transcends the thoughtful design and high-quality aspects that define a Mahindra Lifespaces home, to also include the complete experience of moving in and becoming part of a larger, thriving community. Our latest films bring to life the insight of how neighbours are an intrinsic component of joyful community experiences.
SUNIL SHARMA
VP - Marketing & CRM, Mahindra Lifespace Developers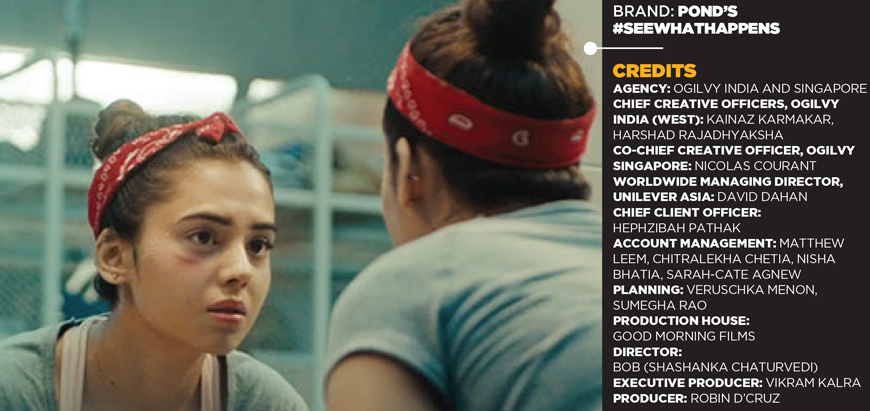 We are really excited about launching the new world of Pond's. It's a world that is asking young girls to go ahead and say what is on their minds and do what is in their hearts. Society is ready for their bold moves. The time has come to go ahead and #SeeWhatHappens.
HARSHAD RAJADHYAKSHA
Chief Creative Officer, Ogilvy India (West)

Pond's is an iconic brand in India with great heritage and equity. It gives us great pride to give it a new take that encourages women to never hold back and 'See What Happens'. With the power of social media, we hope to ignite conversations just like the film. Women still feel held back by their inner voices and we want to encourage them to share their stories.
PRABHA NARASIMHAN
Vice President, Skincare and Colours, Hindustan Unilever