Allen Solly has always redefined men's and women's workwear through its past campaigns. What really got us going with the new collection is that women won't have to worry about letting go of that great dress they love. Because Allen Solly's new collection focuses on body shapes and not just standard sizes. And that is where the whole thought of #OwnYourShape germinated.
MAHESH GHARAT
Chief Creative Officer, Ogilvy & Mather, South

When we spoke to consumers, there was need to move beyond the onesize-fits-all standard. We were not just expected to create fashionable dresses, but also ones that fit just right. The woman of today tells us, "Fashion is not about perfection…just give me good offerings which complement my shape." This is our way of encouraging women to go out and own their shape.
ANIL. S KUMAR
COO, Allen Solly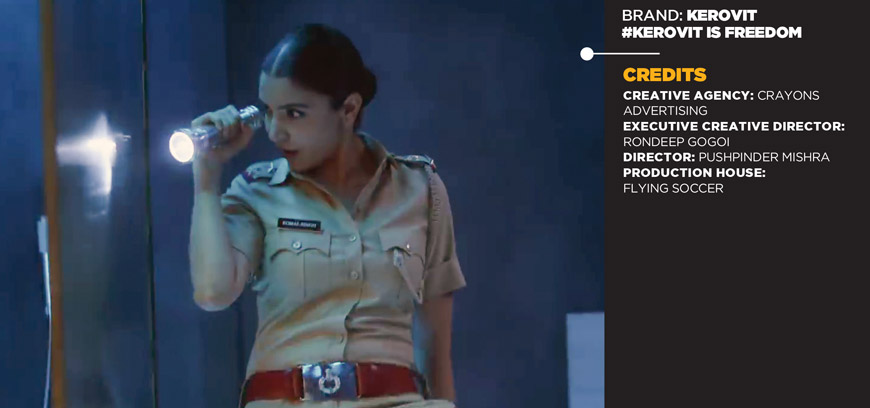 'Kerovit Is Freedom', is a massive idea and therefore extendable. However, the challenge was to maintain the surprise element keeping the same idea alive. Portraying Anushka as a cop helped us do that. It is a fun ad campaign and resonates with the brand's youthful appeal.
RONDEEP GOGOI
ECD, Crayons Communications

Kerovit's campaigns have struck a chord with our young consumer base and helped make Kerovit a well-known brand name in the country. Kerovit products are made in India and are of the highest global standards. We are a young, fun and stylish brand, and with our brand-new campaign, we're growing in every way - the scale, the reach, the idea and the freedom, everything is greater than before.
RISHI KAJARIA
Joint Managing Director – Kajaria Ceramics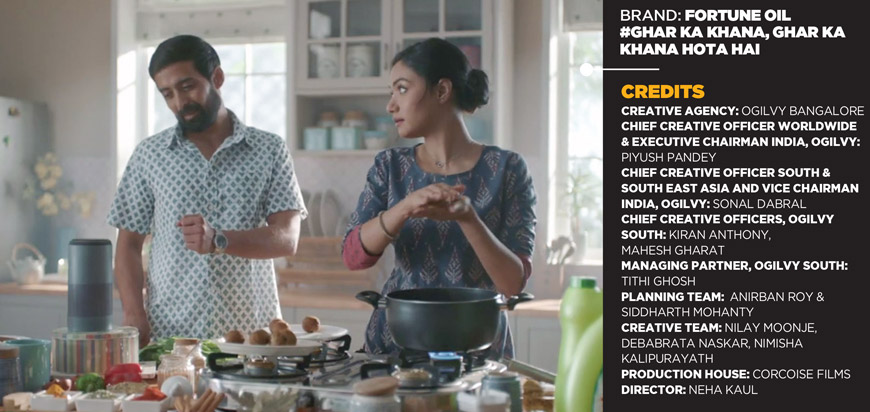 There is no joy greater than eating home cooked food. This is a universal insight. For the brand to be in tune with changing lifestyles it was important to refresh the brand's thematic communication with stories that borrow from these new cultural codes. This time the campaign has been shot in three different languages for even greater authenticity.
TITHI GHOSH
Managing Partner, Ogilvy South

Fortune Oil has always stood by the philosophy that there is nothing like home cooked food. We found this concept fresh, engaging and having the ability to take the brand ahead. This story puts the kitchen in the centre of the home, and Fortune at the centre of the kitchen. We believe that in today's time, people will relate to this story where use of technology is very common.
ANGSHU MALLICK
Deputy CEO, Adani Wilmar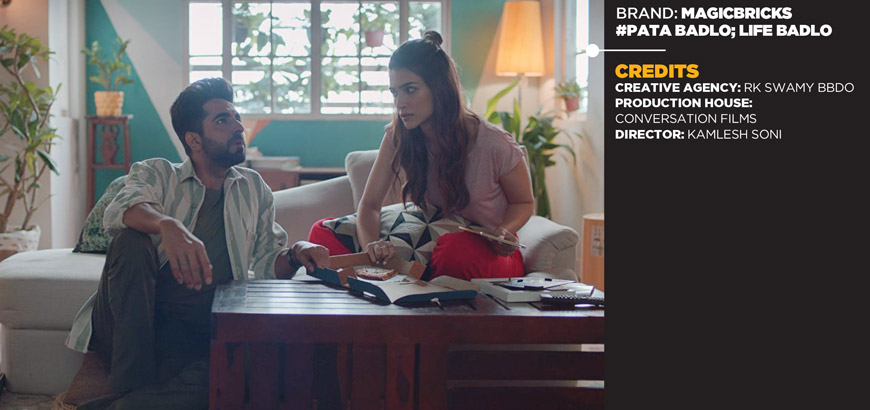 The onus on Magicbricks was to explore new dimensions and perspectives through its communication. National Award winning actor Ayushmann Khurrana, and a houseful of talent, Kriti Sanon, have added a lot of life to the campaign with their power-packed performances, and lively presence.
ANKUR SUMAN
Partner and Executive Creative Director, RK Swamy BBDO

Magicbricks has always believed that property seeking is an emotional journey. Our new campaign 'Pata Badalta hai to bahut kuch badalta hai' has a strong consumer insight at the center and coupled with brilliant execution, it will hopefully be appreciated by all segments of property seekers.
PRASUN KUMAR
Marketing Head, Magicbricks