Vinay Maheshwari joined as Executive Director and CEO of Sakshi Media Group in January this year. Sakshi Media Group has its presence in Print, TV and Digital media across Andhra Pradesh and Telangana, and is celebrating its 11th anniversary this year. Sakshi, from its inception, has created new records in the Print industry in India in many areas ranging from being the first newspaper in the country to launch 23 editions simultaneously, to its recent distinction when Sakshi's 22 printing Presses were admitted to the prestigious WAN-IFRA quality colour club.
Excerpts from our conversation with Maheshwari:

On IRS Q2 2019
Most regional dailies are putting in a lot of effort to make their product more relevant for readers. However, it is going to be an extremely challenging task to grow readership for Print on a sustained basis from here on. Definitely, not a good sign for the industry as most publications across languages have shown a decline in Q2. We are happy that we have managed to grow our readership in a time when most others have declined sharply in the Telugu Print market. We are putting in a lot of effort on product and circulation to ensure that we stay relevant and continue to grow consistently.
ON ROLE OF PRINT IN DIGITAL ERA
Digital is definitely growing fast, however, Print still holds its relevance for a large section of consumers. Ever growing literacy, hyperlocal coverage, credibility, affordability and an economical door distribution model will surely keep Print alive and kicking for many more years to come. On the other hand, vernacular, video, voice, and variety is making the digital audience grow thick and fast. At Sakshi, we are all for making use of synergies between Print, Digital & TV.
ON GROWTH OF PRINT MEDIUM
Digital and Print can build on one another's strengths and continue to flourish. There are two issues that need to be addressed. The first is that the time for narrative journalism is long gone. Journalists now need to re-invent themselves to provide crisp news. Secondly, newspapers need to deliver beyond just the spot news. They need to deliver knowledge to their readers. The sheer depth of coverage makes Print suitably placed to deliver this.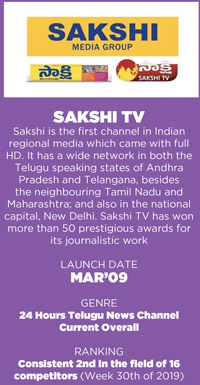 ON THE AP AND TELANGANA MARKET OF TODAY
No advertiser worth their salt can shy away from the Print medium. The focused, deep coverage potential of Print is unmatched by any other platform. With hopes of realty, lifestyle and auto segments picking up soon, we should see bright days ahead.
ON BRAND AMBASSADORS FOR PRINT
In the short run, celebrity endorsements help generate some interest and curiosity; however, for established categories like Print, these endorsements have limited scope. Ultimately, it is content that drives readership and top of the mind recall. Content that is superior, differentiated, and engaging.
ON SYNERGY SAKSHI GROUP DRAWS FROM DIGITAL WITHIN
With a strong presence in TV and online media, we are strongly placed to deliver great content to our readers, and a great reach platform to our advertisers. We are already number 2 TV player in AP and Telangana. Our strong online presence helps us cater to both domestic and overseas Telugu reading population. Sakshi has always ensured the synergy between the three platforms.
ON BARC INDIA'S DECISION TO SEPARATE PAY AND FTA
I don't see any logic behind this. A consumer is a consumer, irrespective of whether he/ she is watching paid, or FTA channels. I think pressure would have to come from paid players whose numbers look small compared to the FTA channels. It is like shielding them from reality.
ON BIGGEST CHALLENGES FACED
The market is getting increasingly fragmented. The overall size of the pie is also not showing good growth. Subscription economy is stagnant. All of this is bound to add pressure on the bottomline. It's time to think beyond the regular and conventional revenue streams.