At the recent Akamai-exchange4media AdTech roundtable in New Delhi, experts from the AdTech domain spoke about 'Future Proofing AdTech: Optimising for Scale, Performance and Efficiency'. The discussion focused on aspects like: AdTech Industry in India - trends and insights, tech challenges that plague the industry, current use cases and opportunities and competing with global behemoths and the way forward.
Prominent players from the industry were in attendance and included: Anurag Gupta, CEO, SVG Media; Viraj Malik, Founder Adchakra; Renu Bisht, India Head Market Place, Tyroo; Siddharth Dabhade, MD, Criteo; Amit Relan, Co-Founder and Director, mFilterIt; Anuj Kumar, Co-Founder & Chief Revenue and Operating Officer, Affle; Prashant Puri, CEO and Co-Founder, Adlift; Aditya Singh, COO, iCubesWire; Vinu Nair, Country Head - Ad Tech, Youplus; Amit Rathi, Director Brand and Performance, AdColony; and Arun Upadhyay, Director Sales and Strategy, BanterX. The session was moderated by Rohonesh Kar, Presales Leader, Media India, Akamai Technologies and Amarjeet Nayak, Head of Marketing (Media), India & SAARC, Akamai Technologies.
Anurag Gupta, of SVG Media spoke about the trends shaping the ad tech domain; he also highlighted how Indian market had a unique response when it comes to dealing with issues like ad fraud.
Speaking at the roundtable, Anuj Kumar of Affle underlined the need for a seamless experience in the ad tech domain which does not involve too many touch points. "If we look at the number of nudges used to get the users to transact, if those touch points are increasing there will be more demand on the efficiency," he said.
Underlining the innovation happening in the digital space and Youplus was enabling it, Vinu Nair spoke about the services that Youplus provides which helps publishers decide which ad content piece is apt for a particular page.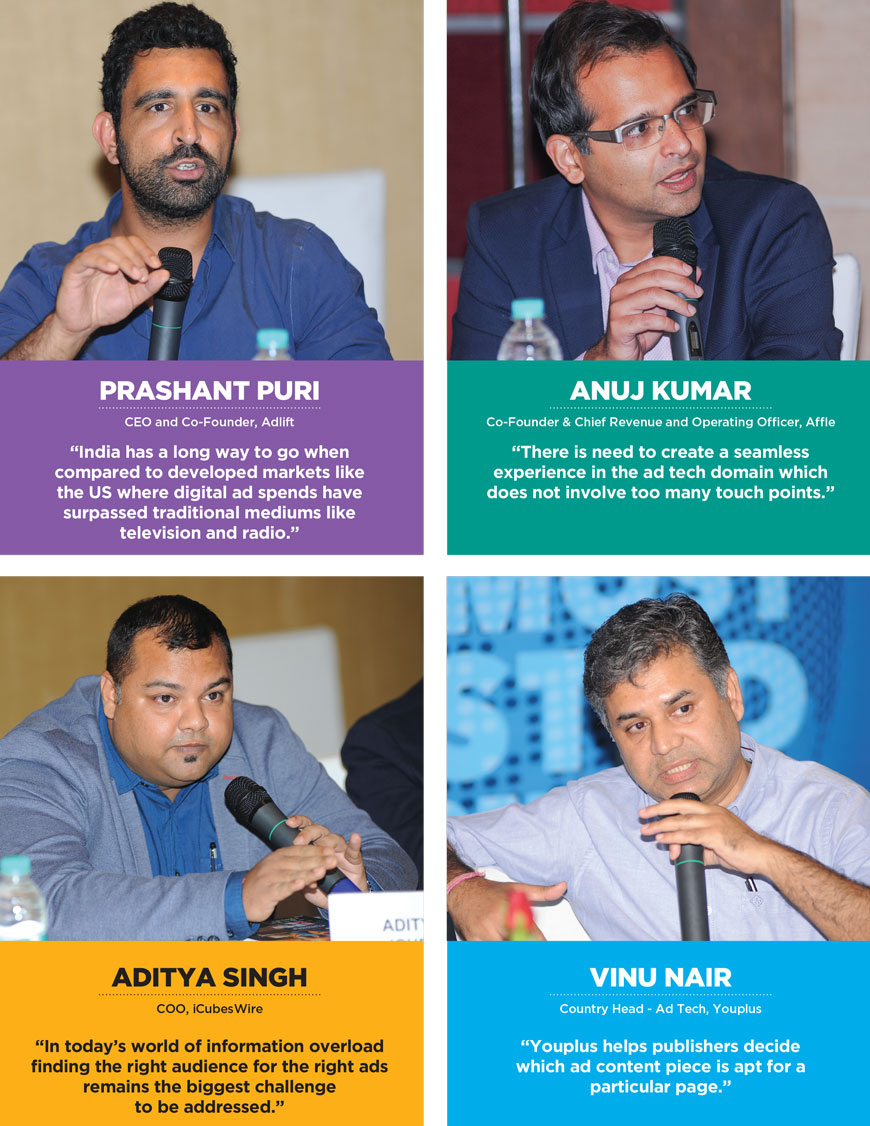 Prashant Puri of Adlift spoke about the rising ad spends in the digital space which has moved from 5% to 15%. He also underlined that India had a long way to go when compared to developed markets like US where the digital ad spends have surpassed traditional mediums like television and radio.
Amit Relan of mFilterIt highlighted the need to put in place checks and balances to curb ad fraud that is impacting the digital world. He cited examples of ecommerce players and how ad fraud is affecting the sector.
Aditya Singh of iCubesWire spoke about the challenges that are common to all the players in the AdTech domain. In his words "finding the right audience for the right ads" remains the biggest challenge to be addressed.