Q] How has your 30 year-journey in Advertising been so far?
It's been a great journey. I've met some of the most wonderful people in these 30 years and had an opportunity to work on some of the best brands, not just in the country but all across the world.
Q] How have you seen the industry evolve? Can you recall a few anecdotes?
The industry was completely different 30 years ago. I joined advertising as a management trainee in Lintas straight out of MBA. This is only my second job. I'm an MBA in Marketing, that's when the first sense of business of Advertising started evolving. After liberalization, Advertising started growing significantly. But then the problem was that so many other industries came in and we stopped attracting the best of talent. Clients figured out that they should start dealing with the creative guys directly. Then there was a phase where a lot of industry leaders were creative leaders, people like Piyush Pandey or Prasoon Joshi or Balki… It then moved into a phase where media became really important. Clients realized that 90% of their money was going into media and that they should start focusing there. It is now at the front of the game where the AORs and media agencies are investing heavily on research. The next cusp is the digital wave where there is no line that divides media and creative. So in some ways, the world will come back to where it started. Going forward, digital, data and technology is going to play a much bigger role in Advertising than it ever has. This also means that some of the old legacy creative agencies or businesses will find themselves in a stressed position.
Q] What is it about the industry that excites you the most?
Everything, but the one big thing is that this is one industry where no two days are alike, in fact no two hours are alike. There are new challenges, new people that you meet. The constant process of reinvention is what I find exciting.
Q] What are the challenges that you have faced while formulating strategies for brands?
The first challenge is that Advertising is a very sentiment-driven business and if the sentiment becomes uncertain, the clients start pulling back on their spends. Secondly, agencies have branded themselves as people who can do a 30-second ad in a 100cc ad. That's not what we are; we want to provide the best marketing communication solutions to the client in a Digital-enabled world. We want to become consultants and provide higher end business transformation consultancy. They expect that from an Accenture or a Deloitte or a McKenzie, but not from an agency. That's a task to be done but perhaps the biggest opportunity staring at us as well.
Q] How does your 10-year experience at Aegis differ from the other organizations you've worked for?
I worked for Lintas for 20 years and then brought Aegis to India exactly 10 years ago which then became Dentsu Aegis Network. I had P&L responsibility for South East Asia with eight or nine countries that I was looking after, which was a great experience because you get to see the nuances of different cultures, markets and how to handle it. I was at a very senior level with a P&L responsibility of appointing managing directors and giving them the liberty and freedom to run their businesses but at the same time being accountable for it. In India, I got an opportunity to build this company from less than scratch as there was only a small set-up that didn't have a very good reputation or too many clients. Going from 45-50 people in a lossmaking scenario to now a vivacious growing network of 3,500 people - I've enjoyed every minute of the journey.
Q] Did you plan to go Digital solely on your intuition or were there other factors?
We were about 80-90 years late in this market and our competitors were here well before us. If you looked around, you could see that India and the whole world was starting to digitize. When we started investing, only 4% of advertising was Digital. Today that number is around 17-18% of the market, but we as an agency group today get more than 40-42% of our revenues from Digital. So, I won't say it's an intuition, it is a good judgement call that we over-invested in this area.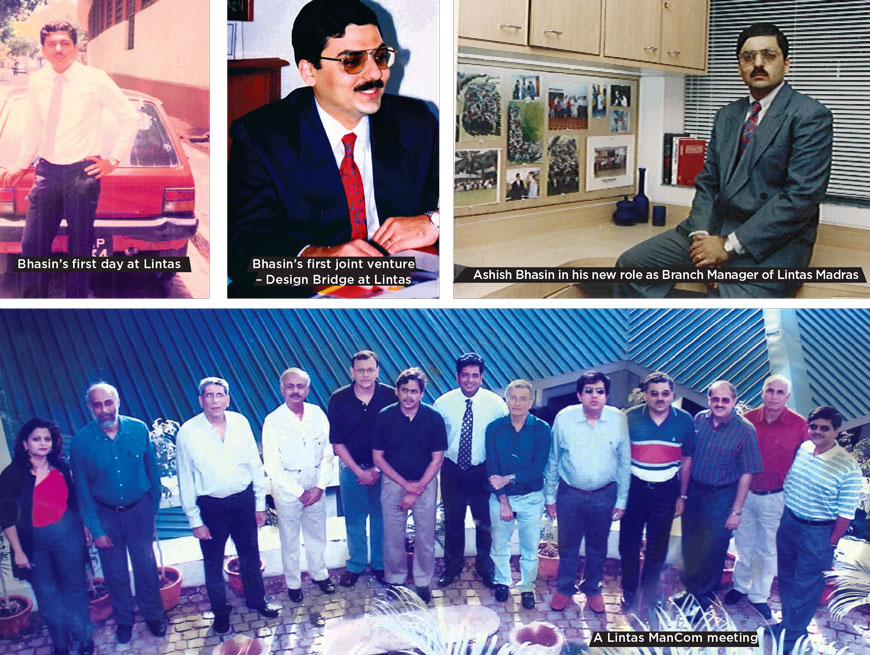 Q] Was it a challenge to sell Digital to an advertiser in the beginning?
Initially, it was. Using Digital as a medium for advertising now doesn't need selling. We need to gear up ourselves and our clients for businesses that are going to be transformed because of Digital. How we partner them and how we add value to that process is essential.
Q] What separates the industry's young talent from the older ones – especially in the Digital space - today?
Everyone in Digital is largely young because Digital itself in India is not more than a 15-year-old business. If you've done 10 years in Digital, you're considered a veteran. What separates the young Digital guys from the old ones is the natural intuitive grasp of the business and impact of Digital on business. Many mistake automation for Digital; they're not necessarily interchangeable things. As a consumer, you're generating millions of terabytes of data by leaving a Digital footprint on any and everything you do. People who are able to analyse that data well will define what the separation point will be.
Q] What is your advice to budding professionals in the advertising industry?
Advertising is a serious business with very little glamour and a lot of hard work to do. The problem with youngsters is that they look for very quick instantaneous results that don't work. Almost 50% of people who join, leave advertising within 3-4 years, but almost 90% of people who've stayed for more than 8-10 years, stay on for 10-20 years more. The industry doesn't reward you at the entry levels but at the infliction point in your career, the company recognizes you and pays you much better. By that time, 75-80% of the guys have already left. So they've worked the hardest, had the most miserable time and they give up right when they should be reaping the benefits. I always tell my colleagues that Dentsu Aegis Network is the worst company to do a job in, but the best company to build a career in. When you're building a career you're looking at it from a long term perspective. I would advise everybody to keep that as the perspective. Once you've done Advertising, it's quite likely you can't do any other business ever again. You're trying to change and influence decisions of millions of consumers and are entrusted with brands that are worth thousands of crores of rupees that can be built or destroyed based upon what you contribute. The biggest success factor in Advertising is your resilience and ability to withstand stress. You've got to bring that same passion and energy to the job.
Q] Going forward, what are your plans?
Business as usual, but I'm very keen that we future-proof our agency to see how we can grab more market-share. The future looks very bright for our country's economy and we want to ride this Digital transformation. We want to start consulting our clients and being their partners in Digital transformation which is happening all across and we still have a lot of scope to scale up. We came from nowhere, we've overturned 80 years of established order. WPP came in somewhere in the 20s through Hindustan Thompson associates and IPG came in 1938. Since then, WPP has been Number 1 and IPG was Number 2. We announced that we will become Number 2 by the end of 2017, and we actually got there well before that. Having established ourselves as the clear Number 2 player in the market, we now have to plan on how we scale up from here. We have a lot to be proud of, but at the same time we have a competitor who is several times bigger than us.