Q] Tell us about #WithChumbak and why you picked Sara Ali Khan as the first celebrity brand ambassador for Chumbak?
Numbers speak. Our target group and her followers have much of the same characteristics, in terms of age, profile, and so on. Also, in terms of personality, you have to decide where to pitch your brand, and who associates the most with it. So we thought Sara was a perfect fit – she's young, bubbly, and very much the new generation. So both things count, overlap of our core target group, as well as personality fit with the brand personality. The response has been terrific. If you go to Sara's Instagram page, you'll see the kind of views we've got are overwhelmingly positive. And in fact we gained much higher traction than many of the other brands she is promoting. So that's encouraging.
Q] How are you going about promoting this campaign, what is the marketing mix going to be like?
Most of it is focused on Digital and in-store as we have 70 stores across the country.
Q] Why has Chumbak never advertised on TV?
It's a pretty detailed exercise on what works, and what doesn't. See, there are two ways of going about Television, one is very broad based in the mainstream channels where there is a lot of wastage and then there are the niche channels, which are very focused. But then in niche channels, you have to plan very carefully as to how they weigh up against digital channels. So then it becomes a number game in many ways. So we're not looking at it as a medium versus another medium, we're just looking at specifics, what works and what doesn't work.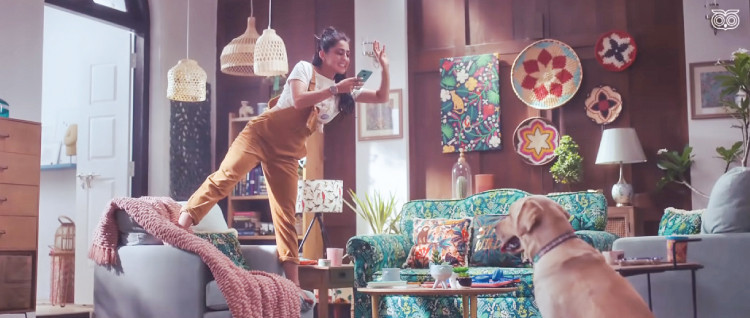 Q] Till about three years ago, about 70% of your sales would come from offline stores and remaining from online. Today what is the ratio like?
Like many other brands, we've moved more online. Our goal is to have a healthy balance. And we are around that goal, which is about 50% roughly. And some of it is omnichannel, which means people buy online, but they pick it up from the store. So in some sense it's all pretty messy to identify what exactly is digital and what is not. But roughly 50-50 is right.
Q] You've really expanded into clothing, accessories, home décor, etc. but what is the most profitable category for you?
We have got 11-12 big core categories. Profitable, I don't know, but the one that has been doing well in the last few months in particular, which our campaign is also based on is home and décor because people are spending much more time at home today and want to do up their space well. And because people are going out less, eating out less, the lifestyle category has been a little slower than home. But it will pick up again.
Q] How much does it contribute to your overall revenue, if you could give me a rough percentage?
Home and décor, if I put that together, comprise close to 60% of our revenue.
Q] Chumbak has had a very funky image. Do you think that makes it very niche in the same breath?
We like to call ourselves a design-led brand. We kind of evolved over time as our customer has also grown. So we changed our logo to reflect that. We are playful, colourful and joyful. I wouldn't call ourselves a very niche player because we are not really catering to a very tiny audience but we're not mass either. So it's a friendly brand, which is design-led. Our range of products is so wide, there is something for a lot of people.
Q] You redesigned your logo last year, how has that helped in positioning the brand?
As our customers grow, our core audience keeps expecting different things. So we listen to what consumers are saying. Our product offering has evolved from where we started off 10 years ago. The design language has undergone a subtle evolution as we go along. You can't just use funky imagery on everything, because by its very nature, it's okay to have a funky key chain etc. but when you get into things which you will treasure for a long time, you want it to be nicely designed, cute, humorous, and a combination of all of those, which is long lasting. So, funky is a narrow sort of positioning and the logo followed that evolution.